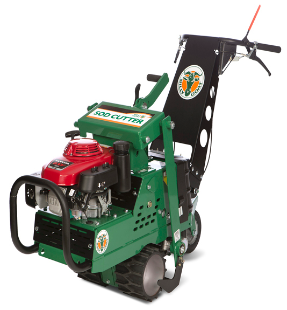 18" Hydro-Drive Sod Cutter
Lawn
Whether your job is Golf / Muni / Sports Turf / Landscaping / Flatwork / Hardscape / Irrigation, etc., the Next Gen 18" Hydro-Drive Sod Cutter is easy to operate and comfortable to use with variable ground speeds – forward & reverse – and intuitive controls.
All new from the ground up, this unit is built upon the most rugged foundation in the industry with a newly designed superstructure frame featuring 50 more pounds of steel and supports a robust new drive and cut system.
Manufacturer Information
Pricing
Price Half Day (4 hours): $75
Price Day (24 hours): $125
Price Week (7 days): $500
Price Month (4 weeks): $1600
Other Information
Model: SC181H
Weight: 406
Width: 26.5" (Cutting width 18")
Height: 38.5"
Length: 60"