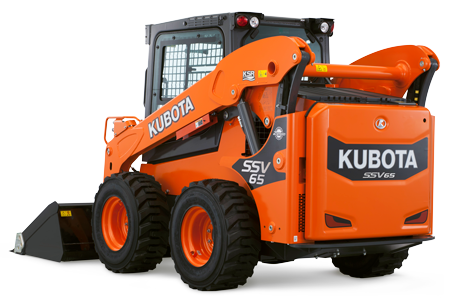 Kubota SSV65
Skid Steer Loaders
Getting around tight places with precision, digging, and lifting sometimes doesn't require a big wheel loader, dozer, or rough terrain forklift. Skid steers are versatile enough to do all these tasks in tighter areas, maneuvering easy around the residential and commercial areas. With a large assortment of attachments available, your skid steer becomes a versatile base for grapples, hammers, snow blowers, rotary cutters, graders, tillers, tree pullers and much, much more. If you want a more economical solution to do more than digging and lifting, a skid steer is the right tool for you.
Manufacturer Information
Pricing
Price Half Day (4 hours): $150
Price Day (24 hours): $200
Price Week (7 days): $750
Price Month (4 weeks): $2300
Delivery
Delivery 5mi: 80
Delivery 10mi: 100
Delivery 20mi: 140
Delivery 30mi: 180
Delivery 40mi: 250
Delivery 50mi: 300
Other Information
Brand: Kubota
Model: SSV65
Power Type: diesel
Weight: 6790 lbs
Width: 66.5"
Height: 79.9"
Length: 135.4"
Number of Operators: 1
Capacity: 1950 lbs